Getting a new home is a time when just about everyone's got advice for you. But a mortgage broker in Singapore might be the most objective source of advice.
On the advice front, we know you're dealing with a lot – from the troves of online guides to the concerned anecdotes of family and friends. And then there are banks, which may give you suggestions that favour you taking a home loan with them.
Well, here's why you might want to consider speaking to a mortgage broker instead of going directly to a bank for your home loan. As a general rule, remember this: the best mortgage advisor means you get the best bank loan.

Read more advice from a mortgage broker: what happens when a property asset becomes a liability here.
A mortgage broker in Singapore know all the hacks and sweet tricks for you to get maximum savings
With access to the home loan rates of just about any and every bank offering it in Singapore, you can be sure that it's us mortgage brokers who know which home loan provides the best bang for your buck.
We make it a personal mission to make sure you're getting only the best deals. The reason for this is that a mortgage broker might rely solely on the income made from mortgage advice and commissions, while a bank may earn from a variety of services.
With fewer avenues to generate revenue, mortgage brokers rely on being trustworthy to form deeper relationships with customers. This is slightly different from what you may encounter as a bank, where your home loan case might be treated transactionally.
Not to mention, many mortgage brokers know the home buying process thoroughly and share the same concerns that you do when you're planning your finances.
You may also meet mortgage brokers who were previously working at banks, therefore possessing a heightened awareness of the process of acquiring the best bank loan and what a bank might look out for when deciding on rates for your property loan.
At this point, you might be thinking that mortgage brokers are a value-added service that makes the home buying process more expensive for you. However, you can take relief in knowing that consultations are free!
And unlike the criteria that a bank might have to evaluate your home loan suitability, a mortgage broker will assess your financial profile with no biases. Based on your profile, the mortgage broker will then match you with the best bank that's most suited for you.
Mortgage brokers in Singapore can also get you cheaper home loan rates
As opposed to you, the buyer, mortgage brokers have more direct relationships with banks. Some of us, mortgage brokers, were even bankers previously.
This means that we can help you obtain better home loan rates than what may be available to the public in banks' home loan packages. You can surely expect that a bank will not track and compare home loan interest rates for you!
And to be completely transparent, banks sometimes offer lower home loan rates through mortgage brokers because of the business that mortgage brokers bring. In return, we mortgage brokers earn a commission, with the commission account varying.
Mortgage brokers are also skilled at trendspotting and identifying when banks' interest rates might reach their lowest and most attractive.
Think of it this way. With over 200 property loan packages available in the market, only a handful usually offers the best, most competitive rates.
But that's also because banks are consistently taking turns to offer more attractive rates to regain market share. Working with a mortgage broker means you'll never miss a promotion or a home loan package with the best interest rates.
The best mortgage advisor can also offer predictions on whether you should take fixed or floating rate home loans, based on their gauge of how the interest rate cycle is progressing across the home loan industry.
Besides, you'll also save a lot of time with these loan recommendations, instead of having to window-shop from banks.
READ: Advice from a mortgage broker: How to budget and save up for your dream home in Singapore
Say goodbye to paperwork and get the bank loan for your house approved faster with a mortgage broker in Singapore
As if there isn't already enough paperwork you've got to deal with when buying your home, the bank loan for your house will also come with a load of paperwork.
But at the same time, you don't want to speed through the paperwork and miss a crucial contractual detail.
Paperwork is commonplace to mortgage brokers, who can pick out the critical details of your paperwork and run them by you, so you grasp its importance.
Not to mention, we'll also help sift through your documentation to make sure you're not giving the bank anything more than what's necessary so that they won't have to sift through excess paperwork.
Most importantly, a mortgage broker can also help you pick out any red flags that may cause delays or rejections in your loan application process. This includes factors like your credit score and your Total Debt Servicing Ratio (TDSR), affecting your chances of getting a reasonable loan amount.
With a good mortgage broker in Singapore, you can identify any potential problems early to mitigate them and prevent these factors from affecting your home loan.
Before you even have to take a home loan, a mortgage broker can advise on a potential property valuation
One of the most stressful parts of buying a new home is to make sure you're buying a home that's just perfect for you. You don't want to be buying a home that you may not be able to afford in the long run. You'll also save a lot of time on property viewings if you know the rough property price you can afford.
Your property valuation, determined by the bank, will also determine the loan amount you can get on your mortgage in Singapore. This is called the Loan-To-Value (LTV) ratio, and it determines the loan amount you'll get in proportion to your home valuation.
Your LTV can vary based on your age, credit history, loan tenure, outstanding property loans, and more. A mortgage broker can work with you to improve your LTV and get you a higher home loan amount.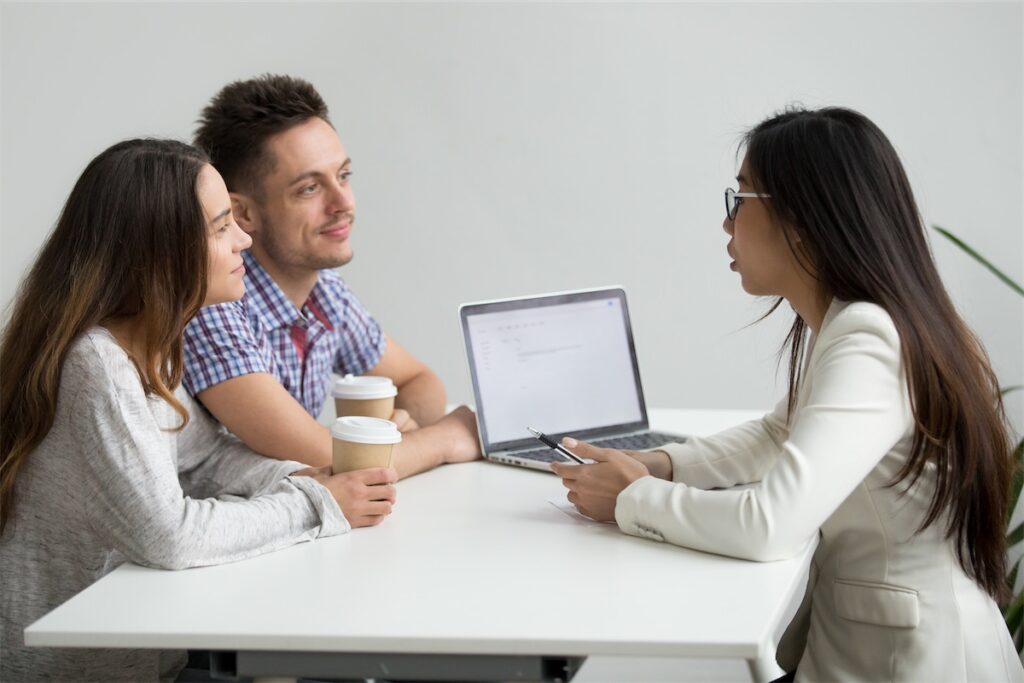 Beyond the home loan package you acquire, make sure your home loan is best suited for interest rates in the future
The low-interest rates that you may enjoy when you first get your home loan may be temporary and subject to market conditions in the future.
Apart from the awesome conditions you might be enjoying when you first get the package, what affects the savings on your home loan throughout your life is how you deal with it in the future.
As interest rates rise and fall in volatile market environments, it can be challenging to decide whether you might need to reprice or refinance your home loan. It's almost like making sure that your home loan is future proof and that you're adapting fast to make the best of changes in the home loan market.
For instance, interest rates are predicted to be on a speedy rise. Thus mortgage brokers might suggest a loan with a fixed rate to take advantage of current interest rates while they're still low.
Once the lock-in period on your loan is over, you might also want to refinance or reprice your loan. This comes with specific implications for the future of your loan, and a mortgage broker can help you with advice on the right moves to make
Get the best value on a home loan from a source you can trust
With a more neutral perspective than the other stakeholders involved in the home loan process, a mortgage broker in Singapore can help you get the best bank loan for your house.
Here at FinanceGuru, we've partnered with banks and financial institutions across the island to bring you the best home loan rates and packages. We'll also take the time to understand your financial situation and give you advice on just about anything and everything to do with your mortgage.