Landed properties in Singapore. Some will tell you that they're too expensive and that you may as well buy a condo.
Others will tell you that they're worth every cent, even if you have to lock up 90% of your payslip to buy one.
While Singapore has one of the highest homeownership rates in the world, buying landed property in Singapore remains out of reach for most Singaporeans – only 5% of our population live in a landed property. And given the exclusivity that comes with owning a landed property — it's the ultimate sign of prestige and wealth if you're able to do so.
In this article, we take a look at the different types of landed properties in Singapore.
6 types of private and landed properties in Singapore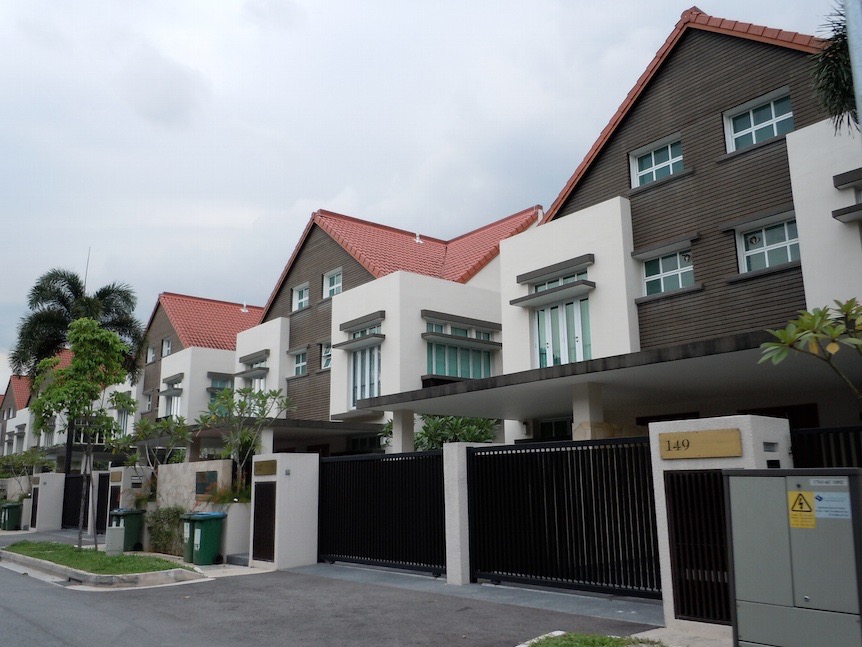 1. Terrace House
Terrace houses are a type of private residential housing in Singapore. The term was coined by the Urban Redevelopment Authority (URA) in the early 1990s to describe the terrace-style housing built in the 1950s and 1960s.
They consist of at least three houses connected by a common wall, and are typically found in older areas such as Katong, Geylang and Kampong Glam.
There are 2 types of Terrace Houses:

Type 1 terrace house is usually bigger, with a minimum plot size of 150 sqm and a plot width of 6m.
If you were to get a Type 1 corner terrace house, the minimum plot size is 200 sqm and plot width of 8m.
Type 2 terrace house has a minimum plot size of 80 sqm and a minimum plot width of 6m.
Type 2 corner terrace houses have the same minimum plot size as intermediate terraces, although they are wider at 8m.
2. Semi-detached House
Semi-detached houses, or Semi-D, comprise two adjoining units, each of which has its own front door. The units are separated by a wall, which typically has a window.
Semi-detached houses are usually found in older neighbourhoods where land is scarce and space limited.
Semi-detached houses are popular for many reasons:
Affordable compared with other property types in Singapore
Maintenance cost is low because there are only two units on one site
Easily renovated to suit modern tastes and needs
Good resale value
3. Bungalow
Bungalows are usually detached houses, meaning they have their own private yard and are not attached to other houses on either side or at the front or back.
They tend to be larger than terrace houses and semi-detached homes, making them more suitable for families with children who need more space and offering residents more privacy and exclusivity.
In Singapore, bungalows also come in different styles such as bungalow court, bungalow flat and maisonette.
Bungalow courts are row houses where each unit has its own private entrance but shares a common driveway. Maisonettes are similar, but bigger than bungalows because they have two floors instead of one.
Bungalows outside of GCB zones have a minimum plot size of 400 sqm and maximum site coverage of 50%, whereas bungalows inside GCB zones have a minimum plot size of 1,400 sq m and maximum site coverage of 40%.
4. Good Class Bungalow (GCB)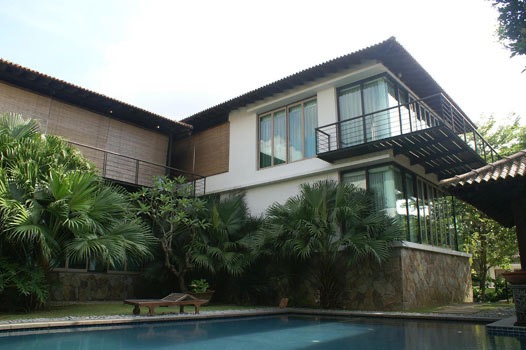 Good Class Bungalows (GCBs) have been around for decades and are one of the most sought-after residential categories. They are large properties with a minimum land area of 1,000 sqm and a maximum built-up area of 4,500 sq.
The GCB designation was introduced in 1997 to ensure that certain areas of Singapore remain exclusive to residents who have the means to afford them. 
To preserve their exclusivity, prestige and character, GCBs can only be built in 39 gazetted areas in Singapore – such as Cluny Road near the Orchard Road shopping belt, Leedon Park near Holland Road, King Albert Park off Bukit Timah Road, and more
In addition, only homes built before 1 September 1994 can be classified as GCBs.
Read more about our take on GCB here.
5. Shophouse
A shophouse is a type of building that has shops on the ground floor and residential accommodation above. They were first built in Singapore during the 1840s to accommodate European traders who needed a place to live and work near their business premises.
Now, they are protected by URA due to their heritage and historical value. Generally, two or three storeys high, these heritage buildings are terraced homes with a long and narrow interior space and a five-foot frontage.
In recent years, many shophouses have become alternative office spaces and homes. They can usually be found in older locations such as Tanjong Pagar, Chinatown, Telok Ayer, and Amoy Street.
6. Cluster House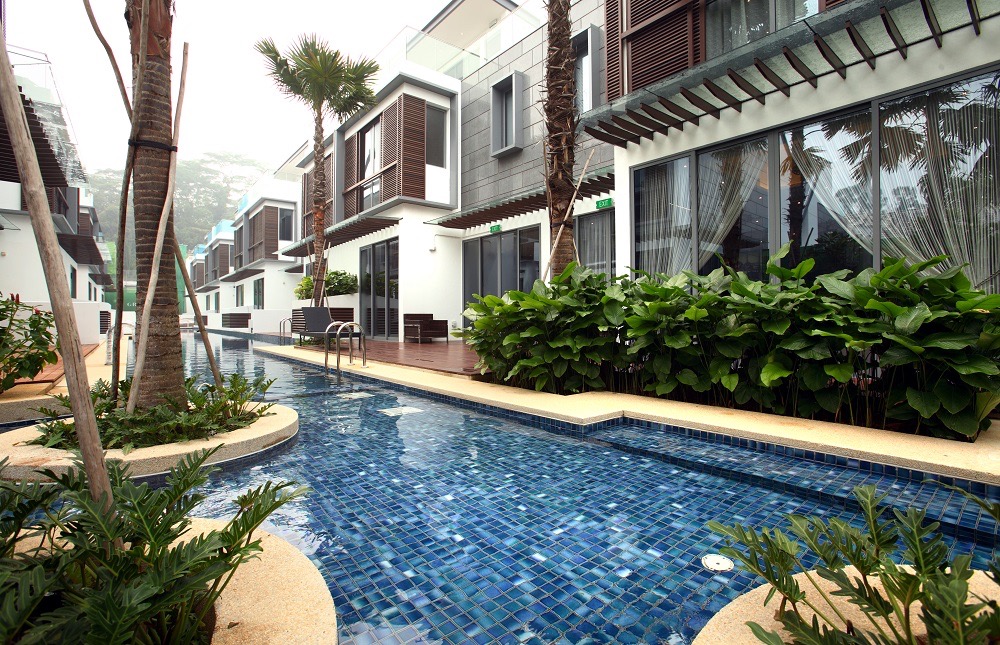 Cluster house is a hybrid landed property that comes with strata titles. These houses typically have condo-like amenities, such as a gym, swimming pool, jacuzzi, playground, and can be built in GCB estates.
Property with strata titles differ in many ways:

| | | |
| --- | --- | --- |
| Housing Type | Non-strata landed properties | Strata-titled landed properties |
| Land ownership | Privately owned | Strata Titled |
| Monthly maintenance fees | N/A | Yes |
| Property Type | Terrace houseSemi-DBungalowShophouseGCBs | Cluster house (including terrace houses, Semi-Ds, Bungalows, GCBs, or a mix of each.) |
| Facilities | N/A | Yes |
| Security | N/A | Yes |
| Lease | Freehold999-year leasehold99-year leasehold | Freehold99-year leasehold999-year leasehold |
Are you eligible to buy these landed houses in Singapore?
All Singaporeans are eligible to buy and own a landed house in Singapore. Foreigners, including Singapore PRs, cannot buy landed properties in Singapore.

But, landed properties are not completely off-limits to foreigners. They can seek approval from the Singapore Land Authority (SLA) under the Residential Property Act. 
Each applicant is assessed on a case-by-case basis, taking into consideration, including but not limited to, the following factors:
You must be a permanent resident of Singapore for at least 5 years; and
You must make an exceptional economic contribution to Singapore. This is assessed taking into consideration factors such as your employment income assessable for tax in Singapore.
READ: Private and Landed Property Guide in Singapore 2022: Buying property as a foreigner
Get the cheapest home loan rate in Singapore
Buying and financing a property in Singapore doesn't have to be difficult!
Our home loan advisors have the local knowledge and experience in mortgages that can help make applying for a home loan in Singapore much easier for you.
What's even better? Mortgage services are free of charge! Speak to one of our home loan experts today and get free, non-obligatory advice on your home loan today.