We'll let you in on a juicy secret. When you buy a house in Singapore, you don't have to cut corners. What if we told you that you could get the amenities of a condominium at HDB prices?
With the right perspective and an eye for a good location, you'll find HDB homes that give you the quality of life that a condominium promises. Like a gym right next to your doorstep, or the expansive circumference of a running track to help you clock your daily run without having to get creative and run around HDB car parks.
We know that's not all. The comfort of 24-hour security is truly one of the privileges of living in a privatised home, and not to mention; there are also amenities like facilities rooms and tennis courts that can "elevate" your quality of life.

Before we go into how you can get condo amenities in your HDB home, let's look at the cost of these facilities.
How much does it usually take to have these facilities in a condo?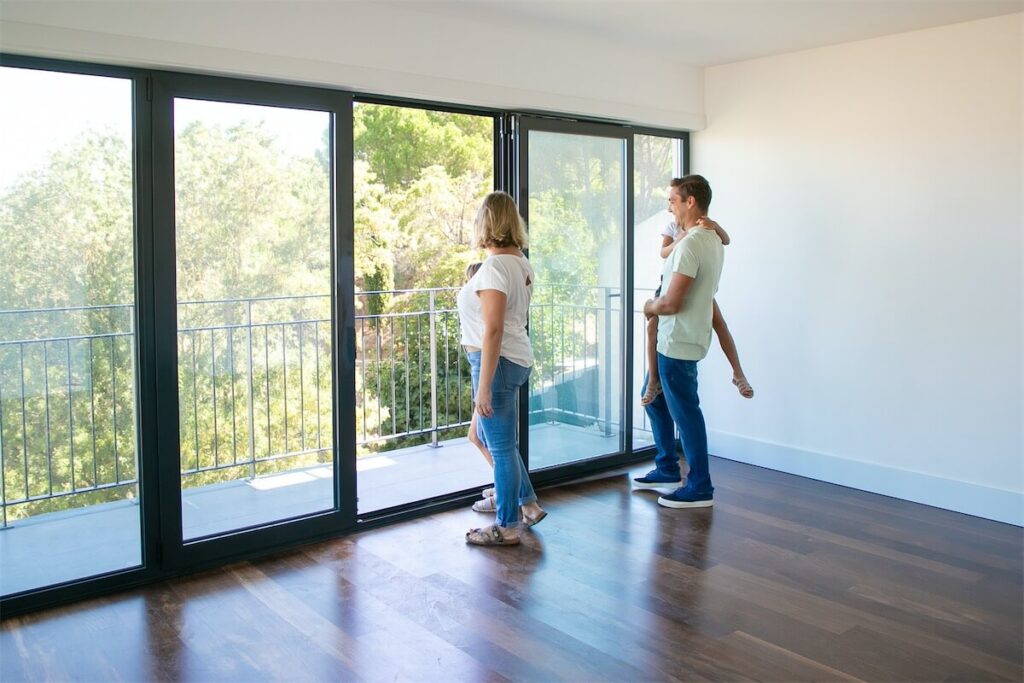 No "condo" facility comes without the cost of acquiring a condominium.
A typical condominium outside the central region of Singapore costs between S$1 million to S$1.5 million for a 3-room unit. Age, location, and size of the property are all factors that could make the cost vary.
As residents of a condo, you'll have to contribute to the upkeep of these facilities, which comes in the form of maintenance fees. So in actuality, you're making active payments for the facilities that come with a condo.
In larger condominiums, maintenance fees are sometimes lower because they're split amongst a larger number of residents, although the size and maintenance frequency of amenities will also scale accordingly.
With that said, monthly maintenance fees usually vary between S$200 to S$400 for most condominiums.
Your money is then used as short-term expenses to keep the condominium in working condition. This might include paying for cleaning contractors to keep the condominium clean, 24-hour security, and other services like insurance premiums to protect the condo from fires and the cost of repairing, renewing, maintaining fittings, and fixtures like lifts in the condominium.
In some cases, you might also need to pay for a sinking fund for your condominium. A sinking fund is somewhat like a rainy day fund that's a shared pot prepared against future expenditures that are non-recurring. Like if the CCTV units in your condo start to malfunction, or if your condo needs a fresh coat of paint.
READ: 10-step guide to purchasing a resale private property in Singapore
What about HDB? Can you acquire these facilities from your HDB home by paying for them?
HDB homes also come with their fare of monthly maintenance payments, usually in the form of service and conservancy charges. Typically, service and charges vary between S$20 to S$90 per month, if you're a Singaporean homeowner.
And if you live in an executive apartment or a maisonette, that amount will be higher.
Charges also vary by area, which you can check on the town council websites. The service and conservancy charges are charged to the town council of your neighbourhood.
The good thing about HDB is that you won't have to pay for the maintenance of amenities that you may end up not using anyway, unlike living in a condominium. Instead, you'll have the option of pay-per-use public facilities like a swimming pool, gym and other amenities that can help you cut down on costs.
Over time, not only will the extra cash help you afford a larger home, it will also make a substantial difference to how fast you can pay off your home loan in Singapore, whether it's an HDB loan or a bank loan that you opt for.
Here's a quick peek at how much pool and gym facilities might cost you if you live in an HDB home. Singaporeans also have S$100 free in ActiveSG credits, which can be used to offset entrance and usage costs for these facilities.
MyActiveGYM
Category
Pass Duration
Adult
Student
Senior Citizen
Peak
1 month
$30
$18
$18
12 months
$300
$180
$180
Off-Peak
1 month
$15
$9
$9
12 months
$80
$80
80
MyActiveSWIM
All-Day
Unlimited (Monthly)
$10
$5
$5
So, say you've got a partner and two children, a monthly membership for both the gym and the swimming pool, for your entire family, will cost you only S$126.
It's an economical way to afford yourself an active lifestyle, if you're okay with the fact that these are public facilities.
Need some quick tips for buying a home in Singapore? Read some here.
How to get a condo view from your HDB flat
There's some joy to be derived from staring at the pristine pools of a condominium unit.
Much like how furniture or fittings of regal colour tones might exude a sense of comfort, perhaps it's a condo view that you want. It's possible to achieve this from an HDB home, but only at select locations in Singapore.
Here's how. Some lucky HDB block units in Singapore have unblocked, million-dollar views of condo pools. Imagine waking up to that gorgeous view but knowing you're still a heartlander at heart, enjoying the sort of neighbourhood culture that any HDB dweller can attest to.
Developers that build condominiums near HDB units do so in a particular way. They build apartment stacks along the sides of the land, placing the swimming pool at the centre.
This way, condominium homeowners will get more privacy, and neighbouring HDB homes won't be able to look right into their homes.
Condominium homeowners get the sense of exclusivity and privacy they paid for, and HDB homeowners get a stunning view that they know will be unblocked for a long time to come.
One such example is in Blk 233 and 235 at Bishan Street 22. The 10 and 11-storey flats initially overlooked an empty field that adjoined Bishan-Ang Mo Kio Park.
Soon enough, the land was bought by condominium developers who built Clover by the Park, a condo with a 99-year leasehold.
As a result, residents of the 2 HDB blocks get this panoramic view to look at. They even get to observe the occasional tennis match.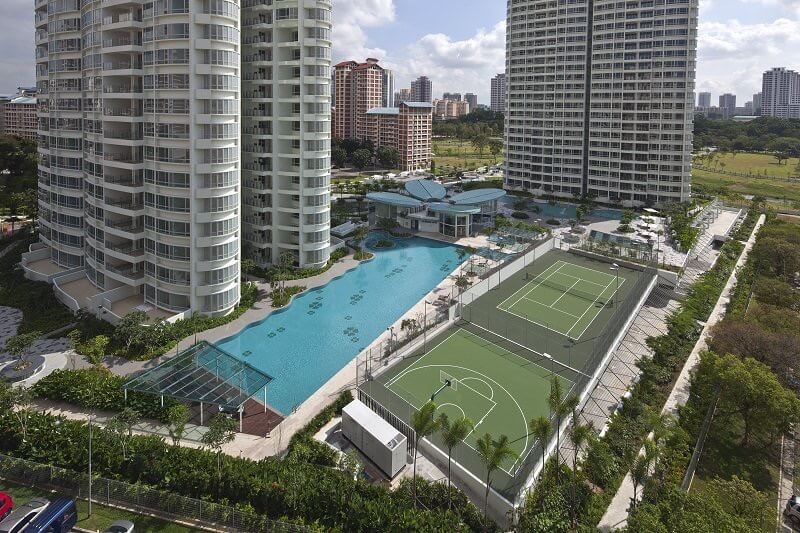 Some other blocks in Singapore offer unrestricted pool views, such as Blk 350 Ang Mo Kio Street 32, which overlooks Ang Mo Kio Swimming Complex and Bishan-Ang Mo Kio Park.
Here's a list of some of such properties. The key is in knowing where to look and snagging the right spot when you buy a house in Singapore.
| | |
| --- | --- |
| Block and Street | What does it overlook? |
| Blocks 350 Ang Mo Kio St 32Blk 335 Ang Mo Kio Ave 1 | Ang Mo Kio Swimming ComplexBishan-Ang Mo Kio Park |
| Blk 125 Bishan Street 12 | Pool at Bishan Loft condo |
| Blk 409 Bedok North Ave 2 | Public pools at Heartbeat @ Bedok |
| Blk 708 Choa Chu Kang St 53Blocks 751 & 752 Choa Chu Kang North 5 | Choa Chu Kang Swimming Complex |
| Block 770 Choa Chu Kang St 54 | Pool at Yew Mei Green condo |
| Blocks 461 and 462 Clementi Ave 3 | Pool at Clementi Swimming Complex |
| Blk 160 Mei Ling Street | Pool at Stirling Residences |
| Blk 401 Pandan Garden | Pool at Twin View condoWoodlands Swimming Complex |
| Blk 179 Woodlands St 13 | Woodlands Swimming Complex |
Getting condo amenities at HDB prices is really all about making the most valuable financial manoeuvre
As a mortgage broker in Singapore would tell you, you don't always have to cut corners when buying a house in Singapore. Instead, it's all about making financial decisions that work for you and your future plans.
READ: Should you take out a home loan through a mortgage broker?
A big part of that is also ensuring that your finances add up in the long run, with your home loan in Singapore added into your calculations.
While HDB provides housing loans at a stable rate of 2.60%, you can get much lower interest rates from the banks for the same purchase.
On the other hand, you could reap the maximum benefits of an HDB home with condo amenities by making all the right moves with a bank loan. But whether it's an HDB loan or a bank loan that you want to repay in the long run, it's best to do all the math that you need far in advance.
If you need help navigating the financial aspects of getting your dream HDB condo, or are vying for a condominium, we can walk you through the process.
At FinanceGuru, we care about making sure every decision you make for your new home is the best decision you can make.

It's part of our promise to you as a mortgage broker in Singapore that we'll walk you through your home buying process with your goals and aspirations in heart.
Buying a home in Singapore is a complicated process, and it's completely normal to feel like you need all the advice you can get. So contact us for a chat with no strings attached today.