A new round of cooling measures was introduced at approximately midnight on Wednesday (15 Dec 2021) to cool private and public housing markets and encourage greater financial prudence.
Recent spikes in private housing prices and HDB resale flat prices have prompted the authorities to take measures to promote continued housing affordability.
This move, most definitely, will adversely affect the buoyant property market, which has thrived despite the impact of COVID-19 on the economy. So, let's look at the 3 key points.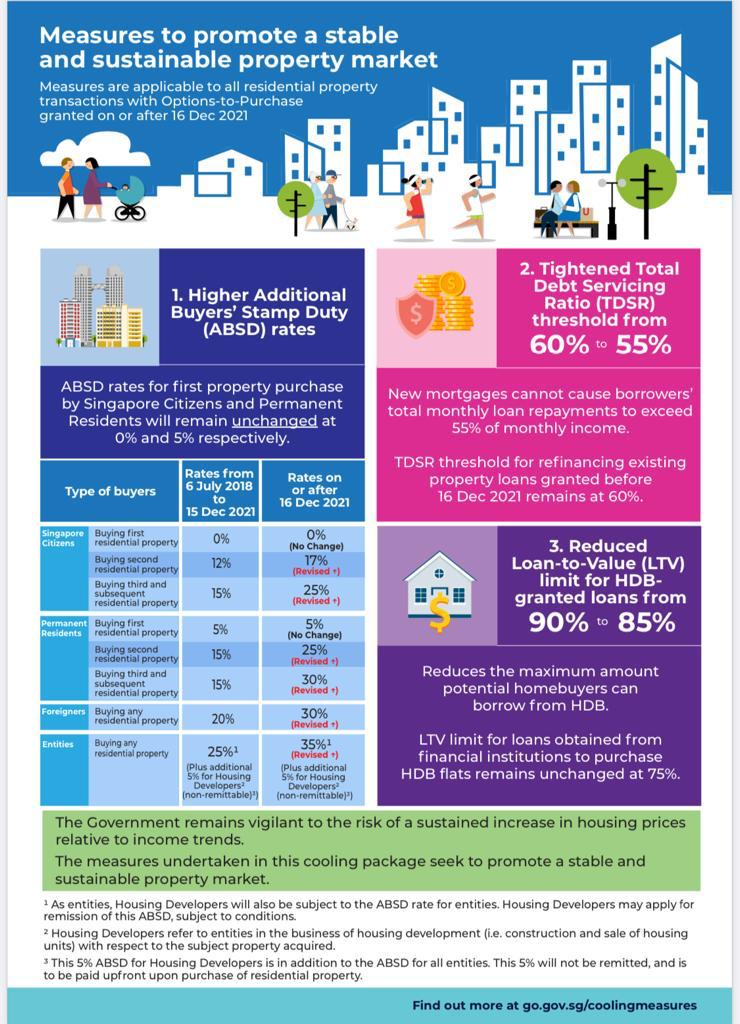 1. Increased Additional Buyer's Stamp Duty rates (ABSD) for homebuyers purchasing multiple properties in Singapore
ABSD rates for Singapore Citizens and Permanent Residents buying their 1st residential property remain unchanged; however, purchasing a 2nd, 3rd, or subsequent residential property will incur increased ABSD rates.
Singapore Citizens will now have to pay 17% ABSD on their 2nd residential property – up from 12% previously, and 25% on their 3rd and subsequent residential properties – up from 15% previously.
On the other hand, Permanent Residents will need to pay an ABSD rate of 25% for their 2nd residential property, up from 15%, while 3rd and subsequent residential property will be subject to a 30% ABSD rate, up from 15%.
The ABSD rate for foreigners buying residential properties will increase to 30% from 20%, and entities, including housing developers, will see their ASD rate increase from 25% to 35%
Here's a quick table reference for the increase in ABSD rates for different buyers and properties:
| | | | |
| --- | --- | --- | --- |
| Buyer | Property | Existing ABSD Rates | New ABSD Rates (starting from 16 Dec 2021) |
| Singapore Citizens | 1st property | 0% | 0% |
| | 2nd property | 12% | 17% |
| | 3rd property | 15% | 25% |
| Permanent Residents (PR) | 1st property | 5% | 5% |
| | 2nd property | 15% | 25% |
| | 3rd property | 15% | 30% |
| Foreigners | Any property | 20% | 30% |
| Entities | Any property | 25%* | 35%* |
* plus an additional non-remittable 5% for housing developers.
The revised ABSD measures will apply to all residential property transactions where the Option to Purchase (OTP) was granted on or after 16 Dec 2021.
Buyers with OTPs granted prior to 16 Dec will not be affected; however, they must exercise their OTPs on or before 5 Jan, or within the OTP validity period, whichever comes first.
Additionally, the terms of the OTP cannot have been altered after 16 Dec.
2. Reduced HDB housing loan limits from 90% to 85%
HDB housing loans will have their Loan-to-Valuation (LTV) limit tightened from 90% to 85%, reducing the maximum amount homeowners can borrow from HDB.
The new measure will apply to those buying a new flat in HDB's sales exercises starting 16 Dec.
It also applies to complete resale applications that HDB receives after 16 Dec. HDB will consider an application complete if it has received both buyer's and seller's portions.
Note that this revised LTV limit does not apply to loans granted by banks and financial institutions, which remains at 75%.
3. Tightened Total Debt Servicing Ratio (TDSR) threshold from 60% to 55%
TDSR limits the amount you can spend on monthly debt repayments.
According to the new measure, the TDSR threshold will be tightened from 60% to 55%. This means that your monthly loan repayments cannot exceed 55% of your monthly income, down from the previous 60%.
Similar to the terms of reduced HDB housing loans, the new TDSR threshold will only apply to home loans where the OTP is granted on or after 16 Dec, and for mortgage equity withdrawal loan applications made on or after 16 Dec.
OTPs issued on and before 15 Dec will be subject to the previous 60% TDSR, regardless of whether or not they exercised their OTPs when applying for a home loan.
Borrowers with home loans granted before 16 Dec will not be affected when refinancing their loans; neither does the new TDSR apply to refinancing owner-occupied housing loans.

Read what happens when you fail TDSR here.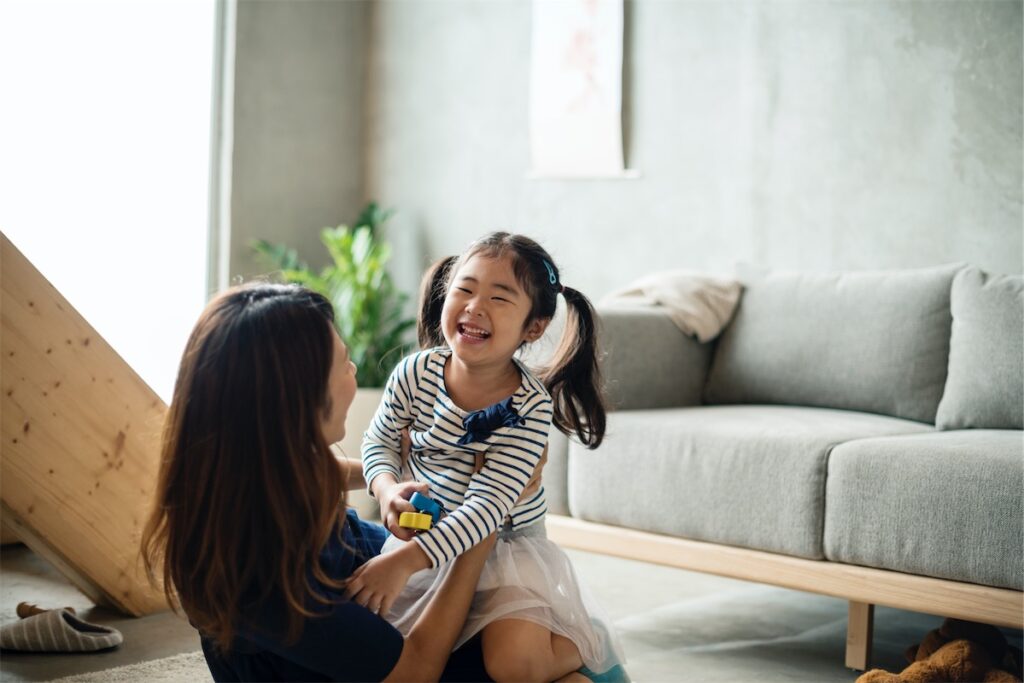 Our take on the latest cooling measures
1. Increased HDB housing supply
These cooling measures are expected to increase public and private housing supply and facilitate a stable and sustainable property market.
With more BTO flats launching in 2022 and 2023, these measures will likely ease the prevailing demand for housing and stabilise the HDB resale market.
We expect slower activity in the property market for about 6 months and that private and public housing prices may stabilise and rise at a much slower pace next year.
2. Lower supply from developers
We may see a low supply of new launches in 2022 and 2023. Most developers may want to maximise the benefits of their current "lower costs of inventory" by maintaining or increasing their profit margins.
3. Higher demand for larger units, more decoupling cases, more activity in CCR
The demand for larger units may rise as Permanent Residents/Singapore investors may prefer to buy a larger 2nd unit instead of paying higher ABSD for a 3rd one. We can also expect more decoupling cases to happen.
There will likely be more activity in the Core Central Region (CCR) where buyers have deeper pockets and where foreigners are most likely to buy since they are less sensitive to market fluctuations.
4. More upgrading options and an increase in demand
As HDB prices stabilise and rise at a much slower rate next year, EC and MOP owners will have more options for upgrading without fear of being priced out. During this window, buyers have the opportunity to negotiate better prices as sellers are more willing to work out a deal.
We will also likely see an increase in demand for dual-key units.
Let's talk about your options
In light of this, how should you plan your next steps? Contact us to discuss and plot the best moves you can make in the current property climate. We're not only well versed in the world of mortgage loans, but we'll always offer unbiased advice.
In addition to free, non-obligatory consultations, all of our mortgage services are free. So let us secure you the best housing loan rates in Singapore – free of charge!