Let's talk about the milestones of #adulting. First, there's completing school, and then perhaps getting a job, achieving financial independence, and, for many, getting married. One of the largest milestones of adulting is when the time comes for you to get your very first home! And to afford one, most of us end up taking a home loan in Singapore.
But no matter what situation you're in, whether you've got ample cashflow or not, you're going to need to do some financial planning. A new home is one of the biggest purchases of your life.
While you might meet many people who tell you that buying a house is an investment, that's not entirely true—especially if you're not going to be selling your house and enjoying its proceeds. Your first home is an expense. So you're going to want to plan it properly.
1. First things first… You won't need all of it in cash or savings
The price tag on a new home can look deathly intimidating. S$350,000 for a 5-room BTO flat? Don't faint!
You can use a monthly mortgage loan in Singapore to pay for your home. It's like paying for your home in instalments. There will also be a downpayment required when you buy your new home.
If you're using an HDB loan, you can use the amount in your CPF Ordinary Account to pay for the downpayment entirely.
If you're opting for a bank loan, you'll need to pay 5% of your home's entire cost in cash. So for a S$350,000 home, that's S$17,500 that you'll need to pay in cash.
There are plenty of loans to pick from in the market, all with varying interest rates and other factors. You can get in touch with a mortgage broker to help you pick the best mortgage loan in Singapore for your needs.
Besides the cost of your brand new home, you'll also need to take some additional costs into account. This includes the giant price tag of renovating your new home.
2. You're going to need more money than you think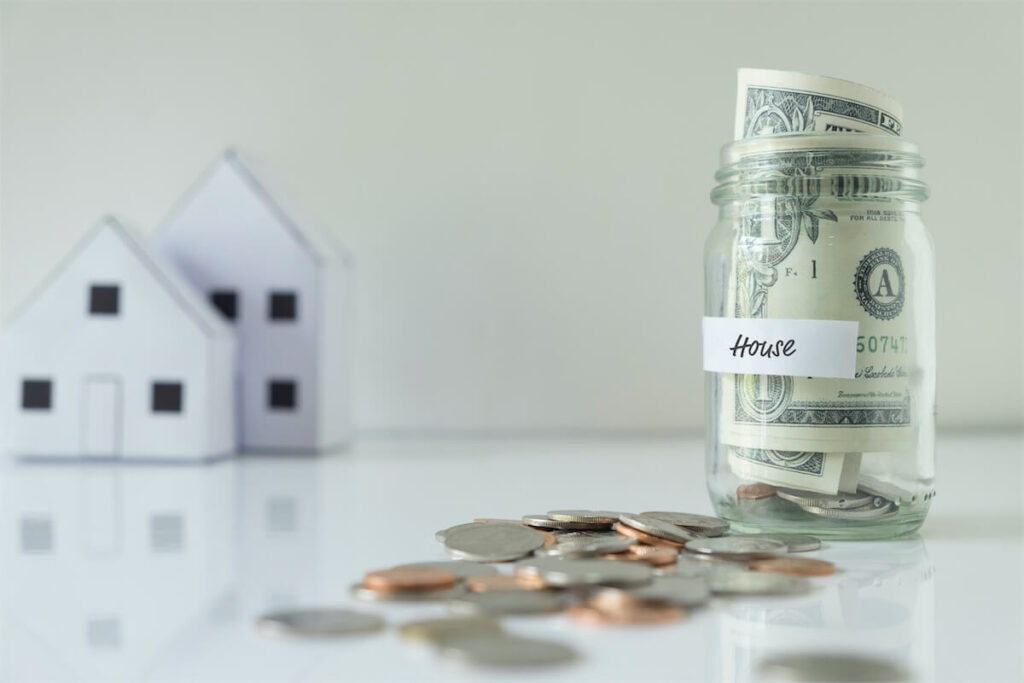 You could know the cost of the home you're going to buy. And you might even know how much it's going to earn you if you sell it after many years.
But when you're taking your bank loan, make sure you don't forget about the upfront costs.
The added upfront costs of buying your new home can add a lot to your overall costs.
Not only are you going to need to pay for the home itself, but you'll also need to pay for commissions, stamp duty, valuation fees, and conveyance fees, amongst other things.
And then add some recurring costs into the mix. Your renovation costs. Your furniture costs. Your plumbing, gas, and electrical costs. And consideration for the recurring costs of your additional luxuries. Like air-conditioning or an individualised gaming desktop nook for you and your partner. These are things that'll reflect in your bills over time.
Learn more about property stamp duty in Singapore here.
Hypothetically, say, you've got your sights set on an HDB loan for a S$500,000 home in Singapore.
Let's have a look at a very rough estimate of the expenses you might be looking at, including a home loan in Singapore.
We're also going to put the following factors in play:
Taking the next 25 years into consideration, your total costs might be closer to…
Assumptions
– Home Price
– HDB Loan Amount
– HDB Loan Interest Rate
– Agent's Commission
– S$500,000
– S$450,000
– 2.60%
– 1%
Upfront Costs
– HDB Application Fee
– Registration Fee
– Agent's Commission
– Stamp Fees
– Conveyancing Fees
– Mortgage Stamp Fees
– Mortgage Registration Fees
– Survey Fees
– Renovation & Furniture
– Total Upfront Costs
– S$10
– S$38
– S$5,000
– S$9,600
– S$335
– S$500
– S$38
– S$294
– S$65,000
– S$80,815
Recurring Costs (over 25 years)
– Interest Costs
– Property Tax
– Conservancy Charges
– Utilities
– Insurance
– Total Recurring Costs
– S$162,454
– S$3,000
– S$15,000S
– $54,000
– S$10,000
– S$244,454
Total Costs in Addition to House
S$325,269
Add this to the cost of your S$500,000 home, and you're looking at a total lifetime cost of S$825,269.
And that's excluding any unforeseen expenses that you might end up having to shoulder for your home—that includes maintenance, upgrading and increasing your quality of life!
So if you were to see your home as an investment after 25 years, you'd have to sell your home for approximately more than 165% of what you paid for it.
Therefore, if you want to know how much you need exactly for your new home, that's an approximation of how you can calculate the amount.
This also includes the amount you'll be getting from your housing loan in Singapore to help support the purchase of your dream home.
With that said, it's not easy to look that far into the future.
A lot can change for your financial situation in 25 years. And if anything, COVID-19 has been a stark reminder of how not everything is within our control.
So how will you know whether you can dive into the purchase of a home?
3. Know how much of your money should go to your mortgage loan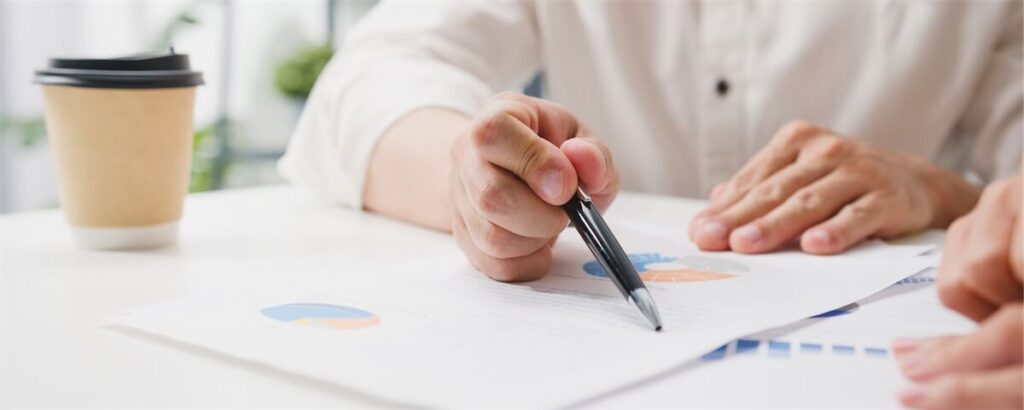 You can use a method to help you decide whether you can afford a particular home. It's called the 3-3-5 rule. And thankfully, it's straightforward to decipher!
Make this objective method to guide your decisions:
| | |
| --- | --- |
| 3 | 30% of your property price: The initial capital you have available should be at least 30% of your property's asking price. |
| 3 | ⅓ of your monthly salary: The amount you're paying for your monthly mortgage loan in Singapore should be less than a third of your monthly salary. |
| 5 | 5 times your annual income: The purchase price of your new home should not be any more than 5 times your annual income. |
The first 3, is closely tied to the amount that you have in savings. This will help make sure that you've got enough money to cover upfront costs.
And in addition to that, it'll also leave you with enough to make a downpayment of at least 20%.
20% is healthily above the minimum that the government asks you to pay, which is 10%.
In the long run, this means that you'll have to pay less in the form of interest for your monthly bank loan. The amount you'll have to pay in instalments will be reduced.
The second 3, and the number 5 in the 3-3-5 rule are more related to your income than your savings. It's somewhat of a safety measure to help make sure that you can manage your mortgage payments in the future.
The number 5 in the 3-3-5 rule also helps keep your expenses in check by ensuring you're not purchasing a house that's too far above your income tier.
You'll also notice that these rules aren't speculative. So while it might be nice if the value of your house appreciates over time, that shouldn't play a large role in your reasons for consideration.
The 3-3-5 rule is a more balanced way to make sure you can have a comfortable life without struggling to make ends meet and afford your home loan in Singapore.
Prioritise finding an affordable place to live in, and leave potential appreciation as a secondary factor!
If you can leave a plentiful margin beyond what the 3-3-5 rule suggests, all the better!
4. Start with good money management to supplement your home loan in Singapore
There are a couple of habits you can adopt to get to your targeted amount of savings. But it's hard to figure out what that perfect balance is. How much of your monthly salary should you be saving? Have you been spending too luxuriously? Don't worry.
For starters, think of yourself as someone who's running your own business. Like any other business, you'll need spending money (expenses), money to capitalise on opportunities (wealth), and cash reserves for emergencies (savings).
You can use the 50-30-20 rule as a suggested allocator for your income!
50% goes to your expenses, 30% to your wealth, and 20% to emergency savings.
You can tweak this in accordance with your preferences once you've got that in the bag.
You can also ensure you have a good credit score to increase your chances of getting new loans. A good credit score is maintained by keeping your debts low and owning a credit card that suits your spending habits.
With a good credit score, you've got higher chances of getting an HDB loan or a home loan in Singapore!
5. So… How much can you borrow?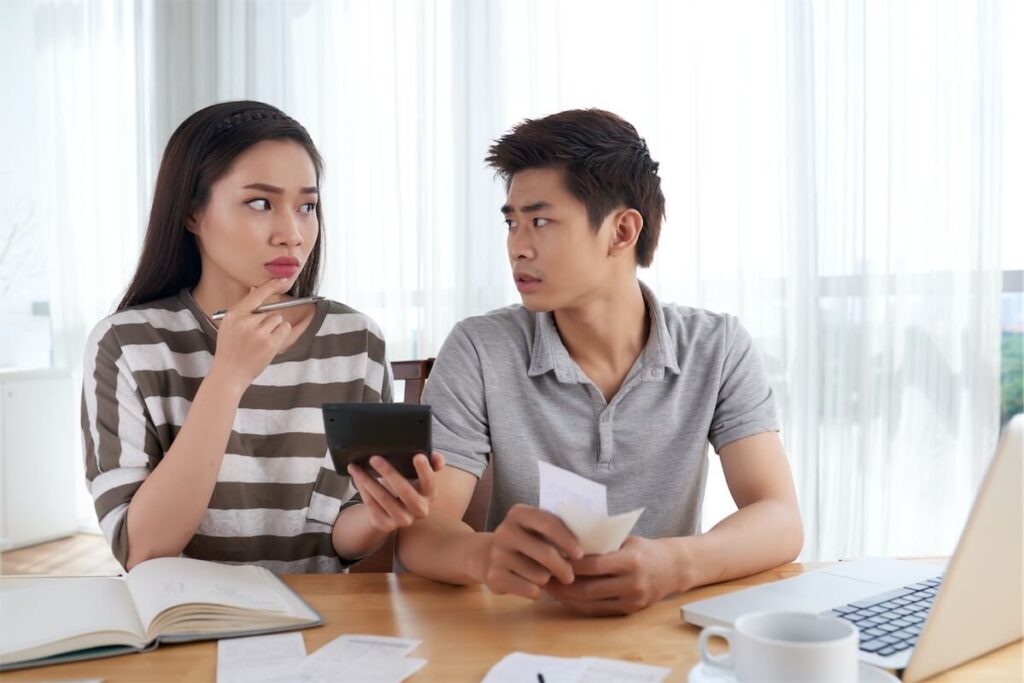 You've got a good plan in place, and you roughly know how much you'll be able to afford in the form of repaying your mortgage loan. This brings us to the next inevitable question: Can you borrow the amount of money you want for your new home?
The amount you can borrow will also help you determine what property price you should aim for. To answer that, you'll need to work backwards a little bit.
For home loans in Singapore, some regulations are in place to make sure that borrowers don't end up drowning in debt.
One such regulation is the Total Debt Servicing Ratio (TDSR), which enforces that only 60% of a person's monthly income can go towards repaying loans, even if interest rates soar.
Another regulation is the Mortgage Servicing Ratio (MSR) which is specific to HDB property and EC (directly from developer).
MSR indicates that only 30% of your monthly income should go into paying for the mortgage loan in Singapore that you took for an HDB home or an EC (directly from developer).
You can use these to help you determine what sort of property you can afford, based on your current income.
Together with a mortgage broker, you can work out your mortgage affordability. A mortgage broker can also help to identify the maximum property price you can afford.
You should make tweaks to your plan until you land on an amount that you can comfortably pay monthly instalments for.
Better still, if you have a partner or a joint buyer purchasing the flat with you, you've got an automatic safety margin!
If you need more help navigating the numbers for your home loan in Singapore, get our non-obligatory assessment and loan product recommendations today.
Read more about what TDSR and MSR are here.
Find out what happens when you fail TDSR here.
6. Know how much of your CPF you'd like to use
Chances are slim that you'll have enough money in the bank to buy a home without taking a loan and paying for it with a combination of cash and CPF. There are pros and cons to using your CPF entirely, or a mix of cash and your CPF.
Thinking of paying entirely with your CPF? You're not alone.
For most Singaporeans, CPF is the place with the largest accumulation of money saved anywhere. Many choose to use their CPF in its entirety to have more cash on hand for those with a larger cash flow.
But there is a catch.
For one, you'll be foregoing the guaranteed interest that you could accrue in your CPF account. And for another, if you decide to sell your property, you'll have to pay back your CPF with interest from the proceeds of your property. 
Take this as an example of how much interest you could accrue over the course of 25 years for a $500,000 home with a 2% interest home loan.
| | | |
| --- | --- | --- |
| 25 year loan for a $500,000 home | Downpayment made with CPF money and grants | Home loan amount |
| Withdrawal amount from CPF | $100,000 | $400,000 (loan amount) + $108,625 (2% loan interest) |
| CPF Accrued Interest (2.5%) Estimated | $86,000 Est | $300,000 Est |
| Total amount repayable to CPF Estimated | $186,000 Est | $808,625 Est |
So essentially, buying a $500,000 flat could mean needing to return $994,625 to your CPF account if you want to sell it. And that's after you've repaid your loan.
On the plus side, you could use the extra cash for some smart investments to grow your wealth.
If you want to pay entirely with cash, you're looking at an obvious, substantial dent in liquidity.
But, in the future, that means you'll get to save on the cash amount you'll need to repay CPF, should you decide to sell the home. Meanwhile, you'll also get to accrue additional interest on the money in your CPF account in the years that you're repaying your loan with CPF.
On the other hand, you could also pay with a mix of CPF and cash.
This option gives you a little more cash-on-hand while also allowing you to accrue more interest on what's within your CPF.
Depending on the loan you get, you can decide how much of your loan you'll be repaying with CPF and how much of it you'll be repaying with cash.
If your mortgage rate is relatively low compared to your CPF rate, you could consider using more cash to repay the loan.
Over time, the high interest you accrue on your CPF could help you offset or counter the interest on your home loan in Singapore.
7. Grants and subsidies are your best friends
Many grants have been made available by the government to help homeowners afford their very first homes.
Grant monies are credited to your CPF account and should be returned should you sell the property, with a 2.5% interest added.
It's almost like a loan that you don't have to return… until you want to sell your property.
They can help take a lot of the amount out of the cost of a new home. For instance, first-time families can get up to S$80,000 for new flats and S$160,000 for resale flats.
First-time buyers also get grants of up to S$40,000 for new flats or S$80,000 for smaller resale flats or a 5-room flat.
Are you thinking of buying your second home in Singapore? Here's how to avoid ABSD on your second property.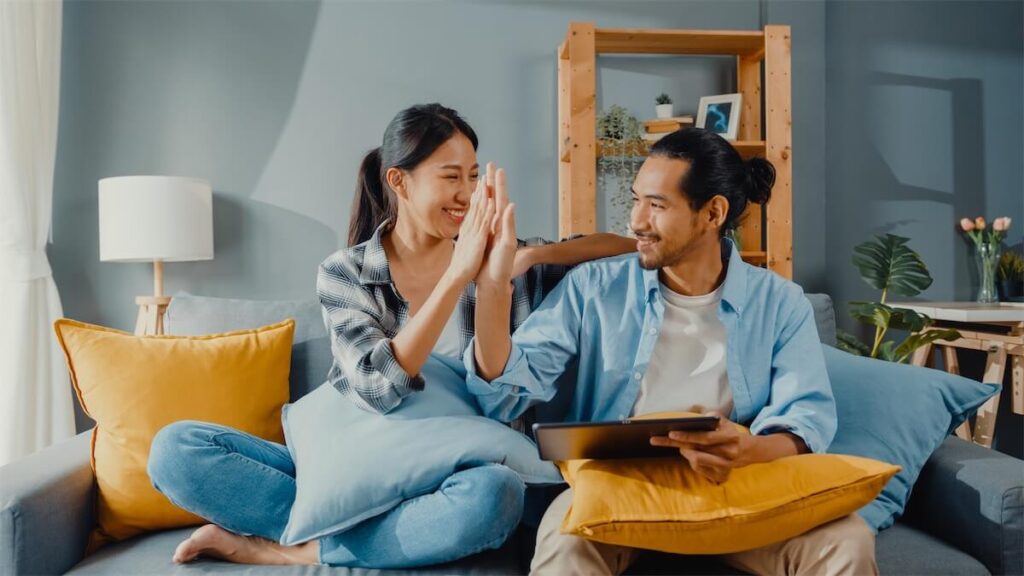 Pay for your first home confidently with a good home loan in Singapore
Now that you know about the exact costs involved in purchasing your new home, you can plan your finances by breaking it down into the steps we've detailed for you.
Before you know it, you'll have a much clearer idea of the sort of dream home you can purchase!
Home loans are a massive part of your financial planning needs when buying your first home.
And that's mainly because of how many options are available in the market and how drastically interest rates can vary.
In all, it's a big part of what makes the purchase of a new home so complex.
If you need help navigating the barrage of information about buying your first home, contact us for a chat with no strings attached. We can help give you more information on the right home loan for you.

Here at FinanceGuru, we're passionate about helping homeowners achieve their life's goals with the best home loan in Singapore. Learn more about how you can make the best of your time and money when buying your new home.